Paintings from Mordehai Shahar's Gallery
I was born in Jerusalem, 1926, as a 7th generation in Jerusalem.

Taking part in the War of Liberation in 1948, I was wounded twice, and I am a member of the I.D.F. Disabled Veterans Organization.
I served as an accountant in the civil service for 35 years, and after retiring, I started painting.
I loved painting since my childhood, but only last I got the time for it, and took technical courses at known painters.

Portraits of Members of My Family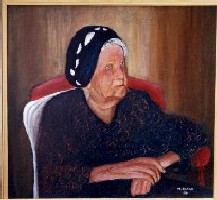 My mother Hannah
Self Portrait
My wife Malca
My daughter Oritt
My son Zohar
My son Eyal
Still Life Paintings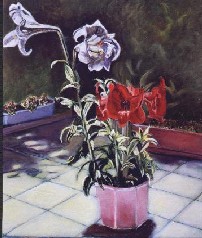 Portraits according to Old Masters


DONA ISABEL DE PORCEL
according to Goya
* * * * * * * * * * * * * * * * * * * * * * * * * * * * * * * * * *
According to Lebrun


* * * * * * * * * * * * * * * * * * * * * * * * * * * * * * * * * *
SAMSON AND DELILAH
according to Peter Paul Rubens
* * * * * * * * * * * * * * * * * * * * * * * * * * * * * * * * * *
To the gallery of my daughter, Oritt:
about the artist || stained glass || sculptures || fusing ||
hot-worked glass || miniatures || awards || from my exhibitions ||
my father - mordehai shahar || home || contact